If you are heading to Gujarat, here's a list of things to do in and around Ahmedabad – to explore the city like never before! From dining alongside graves at the New Lucky Restaurant (yes, you read right) to biking to the Rann of Kutch and stuffing yourself silly with a Gujarati thali, here are some offbeat suggestions.
Read: The Great Indian Bucket List: 9 Must-Have Experiences
1. Dine alongside graves at the New Lucky Restaurant, Lal Darwaza
Here's to dining with some fairly unexpected company! The fascinating New Lucky Restaurant in Ahmedabad's historic Lal Darwaza area is actually build on a graveyard. Guests to the restaurants will still find graves inside the restaurant—casually on the ground between tables.
Waiters rush around the premises, dodging the graves, as they serve patrons with steaming cups of tea. The story goes that the owner did not want to disturb the graves when he bought the plot, and so decided to let them be as is and build a restaurant around them. Today, New Lucky Restaurant is a bustling eatery, with the living and the dead seamlessly sharing the same space.
Photo Source: Book A Table
2. Get lost in old Ahmedabad
There is an aura of history and heritage that envelopes you the moment you enter the old walled city of Ahmedabad. You are lost in an era that once was—and the colour and chaos of everyday life only shines brighter. Spend some hours walking and getting lost in the lanes of old Ahmedabad—without a map. Start at the imposing Jama Masjid and proceed on. Explore the pols (housing clusters) that date back centuries and the heritage Ahmedabad Stock Exchange Building.
Photo Credit: Himanshu Shekhar Mishra
You may chance across a tiny temple that dates back hundreds of years or a beautiful hidden dargah that only the locals know about. You will find lanes so narrow that they can't be walked through. The locals will greet you with massive smiles and a few words of Gujarati, offering you fascinating stories washed down by a glass of buttermilk in return for your time.
Read: Miss Wanderlust Gets Lost in Udaipur's Old City
Photo Credit: Himanshu Shekhar Mishra
 3. Chocolate sandwich and more at Manek Chowk
 If you love food, all roads lead to Manek Chowk, the mecca of street food in Ahmedabad. As the sun sets, Manek Chowk comes alive with hundreds of tiny food stalls, feeding the thousands of hungry souls thronging to the area!
The Chocolate Sandwich is something of a rite of passage—heavily buttered white bread smeared with a thick layer of chocolate and topped with a mountain-load of cheese. Also try the Pineapple Sandwich (cut pineapple slices and cheese, tossed together) and the Gwalia Dosa (plain dosa with gallons of butter). For dessert, tuck into some delicious kulfi—the number of flavours available is mind-boggling!
Read: 6 Spectacular Restaurants Every Food Lover Must Visit 
Photo Credit: Himanshu Shekhar Mishra

4. Bike to the Chhota Rann of Kutch
Those up for a bit of adventure should plan a biking trip to the Chhota Rann of Kutch—located 93kms away from Ahmedabad. I strongly recommend it—the spectacular landscape of the arid salt marsh (complete with the cracked ground which makes for some wonderful photographs) is unlike anything you've probably seen in your life!
Read: 9 Insanely Thrilling Bucket List Experiences – Do You Dare?
Photo Source: Pari Vaidya
 5. Discover the art of Patan Patolas
 The historic fortified town of Patan (located 128kms from Ahmedabad) makes for an interesting and offbeat day trip. Patan is home to the famous Patan Patola, the fine art of double iktat weaving. Despite being over 750 years old, the art is on the verge of extinction – it is practiced by only four families today, all in the town of Patan. Visitors may watch the master weavers at work from close up, marveling at the massive looms and intricacy of the weaves. Amazingly enough, it takes from so months up to one year to make a single sari! If your wallet so allows it, you may also request for a Patan Patola sari to be woven exquisitely for you.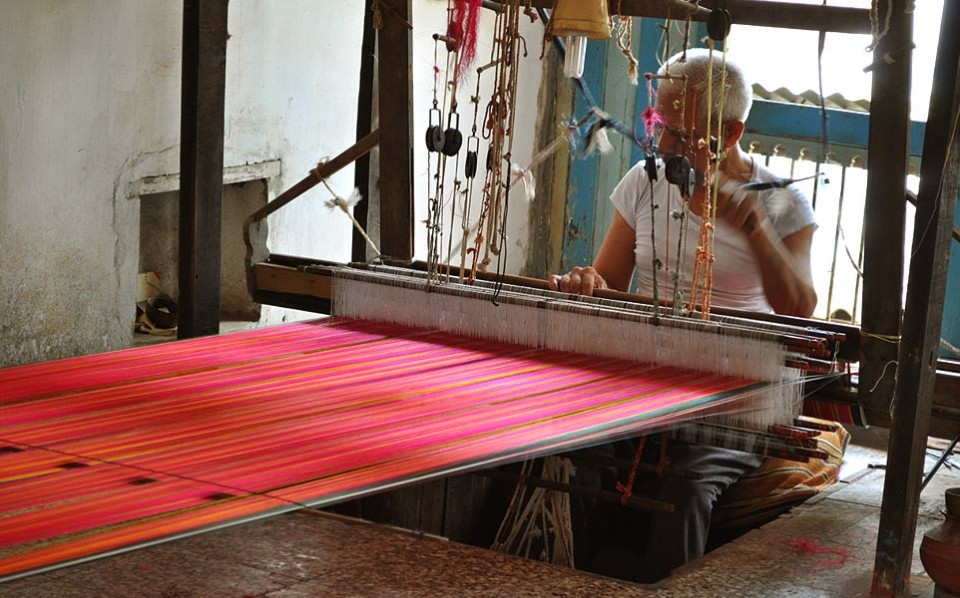 Photo Source: Gaatha.com

6. Play Dandiya in Navratri
 Colour and energy like you've never seen before! Navratri in Gujarat is a very special time, vibrant and vivid like the hues of the rainbow. The city of Ahmedabad is a fabulous place to be during the nine days of Navratri! The best known Navratri events in Ahmedabad are the the Maa Shakti Garba (listed as the largest in India) and United Way Garba, both boasting of an attendance upwards of 30,000 people.
Photo source: Times City

7. Pay homage to MF Hussain at an underground cave
Here's a hidden gem for the art lovers. Few know that MF Hussain has a permanent exhibition of his work in Ahmedabad, located at the CEPT campus. Known as "Amdavad ni Gufa" (The Cave of Ahmedabad), it is a large underground cave-like gallery, housing Hussain's masterpieces. Hussain used the cave's walls as a canvas, depicting human figures an animal motifs, including his beloved horses. He has even painted the doors, window frames and air conditioners in the cave!


8. Eat the thali at The House of MG
When in Gujarat, eat as the Gujaratis do! The beautiful Mangaldas ni Haveli (also known as the House of MG), located in the heart of Old Ahmedabad, is estimated to be over 200 years old and provides the perfect backdrop for this dining experience. The terrace of the haveli is home to Agashiye Restaurant—Settle in for a culinary experience of a lifetime! The food here is freshly prepared and the menu changes daily. Local dishes, prepared authentically, will delight your palette, served to you most generously by the Agashiye staff. You will leave feeling very well fed and looked after!
Read: Tuck Into Mumbai's Best Apple Pie (In a Heritage Cafe)
Photo Source: Trip Advisor

9. Campus hopping
Ahmedabad is home to a bustling and vibrant campus culture. Don't miss out on experiencing this if you have an opportunity! The hallowed IIM Ahmedabad (Vastrapur) is a rite of passage for many. The architecture, designed by American architect Louis Kahn, is a major icon of modernism architecture. Other parts of campus like were made famous by Chetan Bhagat's writing.
Other beautiful campuses include MICA (nestled in rural Ahmedabad at Shela Village, it is not uncommon to find peacocks prancing around the beautiful campus), NID Ahmedabad (Located at Paldi, look out for the art amid the red brick architecture) and CEPT.
Image Zone: GyaanZone

10. Lion spotting at Gir Forest
 The Gir Forest National Park (located about 300kms away from Ahmedabad) is the sole home of the Asiatic Lions in the world. A visit to the beautiful Gir Forest allows you the one in a lifetime opportunity to come face to face with this massive beast, watching it live majestically in its natural habitat.
Photo Credit: Shrey Chakravorty

This piece was written for Happy Flying, the in-flight magazine of Air Costa.
---
More from Miss Wanderlust:
Miss Wanderlust Visits the Ghost Town of Dhanushkodi
Five Things To Do In Bombay (Before It's Too Late)
23 Spectacular Reasons to Visit Norway
This Adorable 8-Year-Old Boy Will Definitely Inspire You To Travel!