Picture this: You're on an island. But not just any island, mind you.
A beautiful island with untouched beaches and sweeping landscapes. Wake up to the view of a lifetime; enjoy a champagne lunch by the waves and an evening swim with the dolphins…Here are some of the most romantic private islands in the world!
1. Necker Island, British Virgin Islands
Located in the Caribbean, the British Virgin Islands are both exotic and exclusive. The best known island is Necker Island—owned by the flamboyant Richard Branson. The island boasts of beautiful beaches and splendid marine life.
An ultra-luxurious resort (a Balinese-style villa) provides accommodation to well heeled guests. Its 360 degree open bedrooms provide breathtaking views of the sea. The island has hosted a number of celebrities, right from Oprah Winfrey to Princess Diana. One night on the island will set you back by a cool $47,000 – or more.
Images Courtesy: Firefly Collection
2. Palm Island, St. Vincent and the Grenadines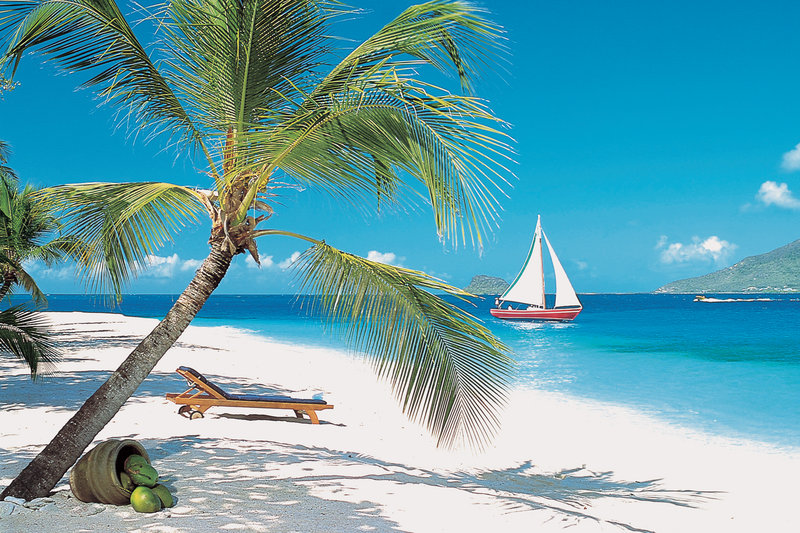 Images Courtesy: Price Line
The average person would not be able to plot St Vincent and the Grenadines on a map—that is how offbeat this clutch of luxury islands is. The top pick within the archipelago is the gorgeous Palm Island. To get there, guests must take an inter-island flight from Barbados to Union Island, and then a ten minute boat ride to Palm Island.
Palm Island has only only a handful of rooms, all located along the beautiful Casuarina Beach. Guests will be delighted by the wonderful experiences available—scuba diving to a shipwreck, snorkeling with sea turtles, romantic picnic lunches and private beach dining.
Read: Miss Wanderlust Goes Yacht Sailing
3. Cocoa Island, The Maldives
Perhaps the Indian Ocean's best kept secret—Maldives is home to several luxury islands. With beautiful villas that overlook white sand beaches and shimmering blue lagoons, you could well be in paradise.
On offer is a range of high-end experiences, right from dining at a heritage lighthouse, a massage at the world's first underwater spa, bespoke cruises or living in a bungalow with a glass floor built over the sea. For a traditional cultural experience, hop aboard a traditional wooden Maldivian sailboat with ivory sails known as a 'dhoni.'
Read about the amazing underwater restaurant in Maldives
4. Motu Tane, French Polynesia
Located at a stone's throw from Bora Bora lies Motu Tane, the most beautiful lagoon in the French Polynesia. The highly elusive private island houses only 20 guests at a time—making it the perfect destination for a romantic getaway.
Motu Tane, with its pristine white beaches and tropical forests, is spectacular in every sense. A personal chef is at your service, enjoy a traditional Tahitian feast in a beautiful torch-lit setting by the beach.
5. Musha Cay, The Bahamas
Musha Cay is an ultra luxury island in the South Bahamas owned by magician and illusionist David Copperfield. To get there, you must take a chartered flight from Nassau to the island's private runway. The resort consists of five villas built in the Balinese style.
Read: A Dummy's Guide to South East Asia's Most Iconic Beaches
Guests can enjoy a lovely lunch on a sandbar and take walks on the panoramic seaside. An open air theatre allows guests to watch a movie under the stars—followed by a fireworks show personally arranged for you by the island's staff.
Image courtesy: Caribbean Way
This piece was originally written for DNA Luxury.
---
More from Miss Wanderlust
Miss Wanderlust: 14 Fascinating Things To Do In Japan
21 Common Mistakes Made By Travelers
Around The World in 20 Desserts