How it all started
I'd been toying with the idea of going skydiving for a while now (admit it, it's a fascinating thought!) So when I had the opportunity to do so with Sydney Skydivers, I was enthused.
Read: 9 Insanely Thrilling Bucket List Experiences – Do You Dare?
Blurry eyed at 5am, I went on my way to Picton Airport, located about 80kms from Sydney, Australia. The magnitude of what I was about to do began to creep in, but a bunch of reassuring messages from Kunal duped me into continuing on my skydiving mission.
Before I knew it, were there…
I was strapped into my blue and grey jumpsuit and given a quick debriefing by my enthusiastic jump master. I watched people before me take their dives, and tracked my 'Departure' on a monitor (it looked exactly like a schedule you'd see at an airport for planes!). My pulse was already racing.
Before I knew it, we'd all been loaded into a little plane and were rising above Sydney! Crouching on the ground, I saw the houses and roads below get smaller and smaller. My anxiety started building. My jump instructor patted by back reassuringly, even as skydiving suddenly began to seem like the stupidest idea ever.

At 12,000 feet, it was time to jump.
My instructor nudged me towards the hatch—and I had the most severe case of cold feet.I DID NOT WANT TO JUMP. Suddenly, it seemed like the stupidest idea ever. Here I was, in a plane full of absolute strangers, waiting to jump out?
NO!
My instructor cajoled me into sitting at the door of the plane. By now I was panicking, but I managed to move myself to the door with my feet dangling out. My instructor gave me a reassuring pat and a slight nudge – And before I knew it, I was free-falling at close to 200kmph through the sky!
It's really hard to put the sky diving experience into words—you feel like you're flying, but don't really feel the plunging feeling as you'd imagine. Absolutely unreal. After a few seconds of falling, I thought it would be cool to look up at the plane we'd just jumped from – but of course we had fallen so far that it was nowhere in sight.
All of a sudden, I hit the cloud cover—and then I was falling through the clouds! I could feel the clouds and their coolness, literally taste the clouds in my mouth…I was part of the clouds and it felt amazing!
Suddenly, the parachute opened up (with such a large thud that I thought that we'd hit a bird). Funnily enough, I'd actually forgotten about the parachute's existence until it opened.  We spent some time gliding above Sydney (even spotting a kangaroo from mid-air) and practising landing positions. We then lowered down to a perfect landing amid a large field.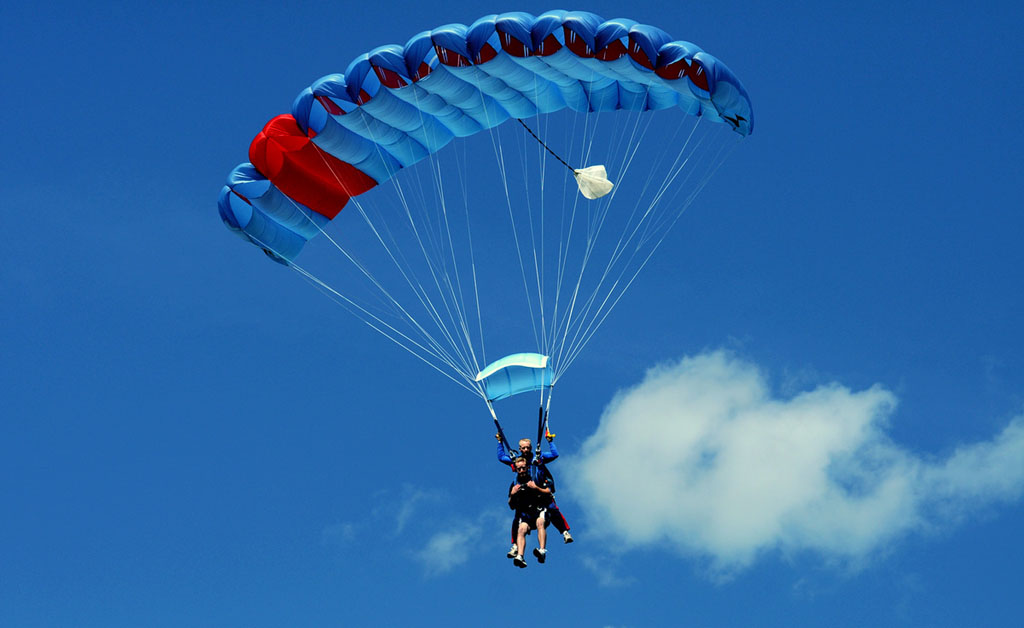 The moment your feet hit the ground, the exhilaration that breaks out is absolutely amazing. It's a massive adrenalin rush and a feeling of "Whoa, did I really just do that?"
That's me after my skydive!
---
More from Miss Wanderlust:
Ticket To Ride: Miss Wanderlust on the Calcutta Tram
When Miss Wanderlust worked at McDonalds
Miss Wanderlust Gets Lost in Udaipur's Old City